July 20, 2021
NYU Shanghai, in partnership with NYU Stern School of Business, celebrated the launch of  new joint Master of Science programs in Organization Management & Strategy (MSOMS) and Marketing & Retail Science (MSMRS) with a panel discussion on July 15 featuring faculty and industry leaders from Estee Lauder, Camus, AIG China, and ZYStrat.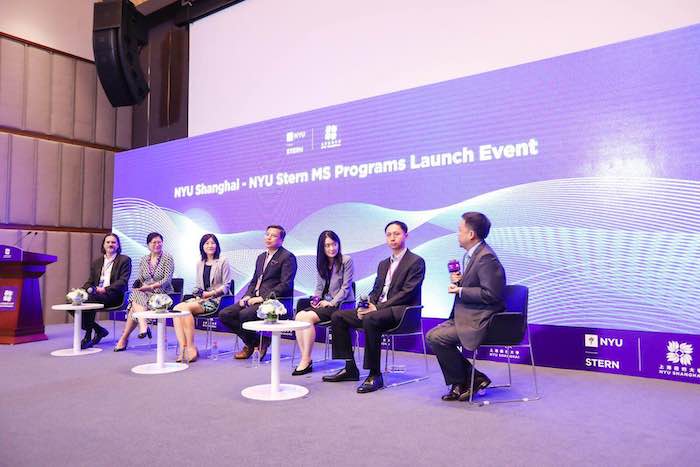 From left: Cyril Camus, President and CEO of Camus; Lisa Sun, Regional President and CEO of AIG China; Sophia Xu, Founder and CEO of ZYStrat; Gary Chu, Senior Vice President of Global Online at Estee Lauder; Tian Yuan, Assistant Professor of Management and Organizations at NYU Shanghai; Ming Liao, Assistant Professor of Practice of Business Analytics at NYU Shanghai; Chen Yuxin, Dean of Business at NYU Shanghai
The panel, which tackled issues such as COVID-19 and its impact on consumer behavior, remote work, and management strategy in China and around the world, was attended by some 100 visitors in the campus auditorium and live-streamed to a global audience of over thousand.
"To say that 'last year has changed us,' is an understatement," said NYU Shanghai Assistant Professor of Management and Organizations Tian Yuan. "We've heard of changes in terms of digitalization, and the use of new tools, analytics, AI, and also different kinds of modes of work. I think the pandemic has made this mode of hybrid work really widespread and lasting."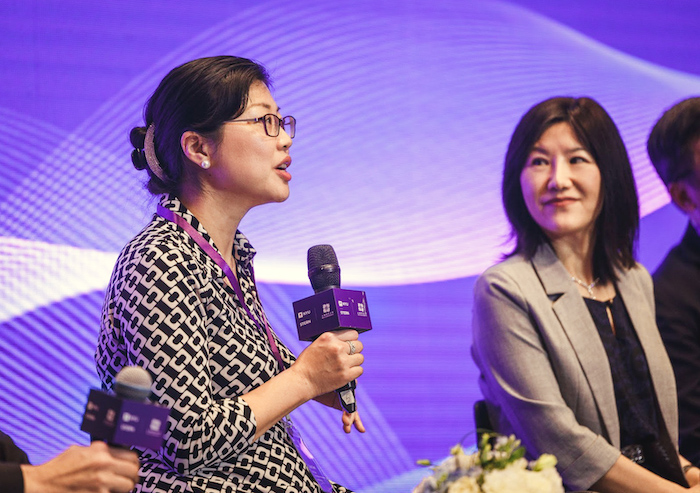 "Covid created a great opportunity in our business to transition to a new way of working," said Lisa Sun, Regional President and CEO of AIG China. "I honestly don't feel that the world can go back to before. Working remotely creates a lot of opportunities for us to retain career women who are mothers, who want to balance the responsibility of being a mother...but still work in the hours that are good for their own schedule. This flexibility is highly valuable for our employees, and it's actually a good tool for us to continue to drive diversity, equity and inclusion."
And although the pandemic has caused great impact to the global economy, the panelists still saw opportunities in the challenge. "Online [mode] has changed almost all [of our] behaviors, including education, shopping, and media consumption,"said Sophia Xu, the Founder and CEO of ZYStrat. "So I think for many of our students who want to better understand consumer behavior, this timing will provide much better, more trackable and measurable data."
Panelists also discussed how rapid developments in data analytics and AI are transforming organizations and strategy for marketing to future generations, especially in China.
"Marketing and retail have changed a lot in the past 10 years," said Liao Ming, Assistant Professor of Practice of Business Analytics at NYU Shanghai "There are more channels, more live streaming, and KOL marketing is very popular now…in some ways China is different from the global ecosystem. In some ways it could be leading."
"In China there's been a lot of innovations driven by internet giants like Alibaba and Tencent building up an omnichannel strategy," said Gary Chu, Senior Vice President of Global Online at Estee Lauder. "That's why you see so many new models in China, like HeMa. The in- store experience is very different from shopping online. This actually is an opportunity and challenge for the brands to reverse engineer their planning process, [and] I think this is a truly new area and requires a lot of investment and investigation."
Rohit Deo, the director of NYU Shanghai-NYU Stern programs at NYU Stern and the academic directors of the two new MS programs noted in pre-recorded greetings that the timing was perfect for the new degrees and the opportunities they created for more students to innovate across geopolitical boundaries. 
"Our program facilitates a dialogue about organization management across East and West. Think of our program as a springboard, or a jumpstart, to a successful entry into the competitive job markets in Asia and throughout the world," said NYU Stern Professor Joseph Porac and Associate Professor Christina Fang, co-directors of the MSOMS program. 
NYU Stern Professor Russell Winer, the academic director of the MSMRS program, stressed the uniqueness of the program. "The distinguishing feature of the program's curriculum is that it combines both a solid foundation in marketing skills with courses designed to demonstrate how increasingly large amounts of data available to marketing managers can be used to help make marketing decisions," he said. "In addition, the courses are presented within the context of doing business in Asia in order to prepare students for careers in that part of the world." 
Guo Hao, the Associate Director of NYU Shanghai's Career Development Center (CDC) also introduced career resources available for students in the programs, including recruitment coaching services, chances to network with industry leaders, access to NYU Shanghai's close partnerships with over 100 notable employers from more than 20 industries, and over 600,000 connections within the vast NYU Alumni network. 
"We committed to the vision of a joint program that would reflect the best of both of our schools, and in the time since, even in spite of a global pandemic that has kept us apart physically, that is exactly what we accomplished," said Eric Mao, Associate Dean of Graduate and Advanced Education at NYU Shanghai. 

NYU Shanghai-NYU Stern joint MS programs, including the two new programs, are now open for application.The Admissions Office will host an English webinar on July 22 and a Chinese on-campus information session on July 31. Please RSVP for the events here. For more information about application procedures, requirements, deadlines, and upcoming events, please visit stern.shanghai.nyu.edu.